Education:
Ph.D., Purdue University, Geophysics, 1989 M.S., Purdue University, Geophysics, 1985 B.Sc., Maharaja Sayajirao University of Baroda, Geology, 1981

 

 

Biography:
Professor Dhananjay Ravat received his B.Sc. degree in geology from Maharaja Sayajirao University of Baroda, India, and M.S. and Ph.D. degrees in geophysics from Purdue University, USA.  He has taught and conducted research at Southern Illinois University Carbondale in Illinois, USA (1991-2007) and since then at University of Kentucky on topics pertaining to exploration of the earth and planets with gravity and magnetic fields, solid-earth geophysics, tectonics and environmental geophysics. From August 2007, he joined University of Kentucky, where he has been the Chair of Department of Earth & Environmental Sciences. He is presently an associate editor of Frontiers in Earth Science - Solid Earth section. He also has been an associate editor of Geophysics (2001-2005), Near Surface Geophysics (2008-2017), and has edited special issues of Seismological Research Letters, The Leading Edge, and International Journal of Earth Science. He is a life member of Geological Society of India (Fellow), American Geophysical Union, Society of Exploration Geophysicists, International Association of Mathematical Geology and a member of American Association for the Advancement of Science.
Research Interests:
Geophysics and Planetary Sciences
Research
Environmental to Planetary Geophysics
Potential fields (gravity, magnetics, heat flow) geophysics theory and its global/planetary, regional, geo-hazards, tectonic and environmental applications.
Research interests of Professor Ravat, his students, and research associates range from global and planetary geophysics and tectonics, regional-scale geophysics to solving environmental and engineering geophysical problems.
We collaborate with researchers from the world over
One of the most exciting recent projects we have been involved with is using high-resolution spectral magnetic methods to study the thermal structure of Aeolian volcanoes in Italy. The reference to our De Ritis et al. (2013) paper on this topic can be found in the Academics section.
Currently, we are also involved in a NSF-funded project on Deciphering the Structure and Evolution of North America's Cratonic Core using EarthScope seismic and potential-field data. In this context, we have already developed a new spectral magnetic depth determination method (Salem et al., 2014) and also a method for computing geotherms with the constraints from the Curie-depths found from magnetic anomaly data. 
We have also been involved in the preparation of the World Digital Magnetic Anomaly Map published in 2007 by UNESCO and CGMW and initiated by IAGA/IUGG. The data and maps are available at: http://ftp.gtk.fi/WDMAM2007/ and its updated version WDMAM 2.0 published in 2015 (http:// www.wdmam.org ). Interpretation of this map in the context of the geology and geophysics of the world and improvements to these data to facilitate the third edition of this map are underway.
In addition, we are also involved in improving magnetic anomaly data for the United States collected during the National Uranium Resource Evalutation (NURE) project during 1970s using new methodologies. Our long-wavelength corrected US magnetic database and report is presently available at: http://pubs.usgs.gov/of/2009/1258/.  The data for individual U.S. States is available at: http://pubs.usgs.gov/of/2009/1129/ .
Honors
Outstanding Alumnus Award from Purdue University Department of Earth & Atmospheric Sciences and the College of Science
Curie Depth Magnetic Mapping
Below is the pdf of a presentation made by Prof. Ravat to Fugro Gravity and Magnetics group in Houston, TX on using the comprehensive magnetic field model for correcting magnetic anomaly data for preserving correct intermediate and long wavelengths in regional compilations and Curie depth magnetic mapping and its advantages and pitfalls. Click on the slide below to download the presentation.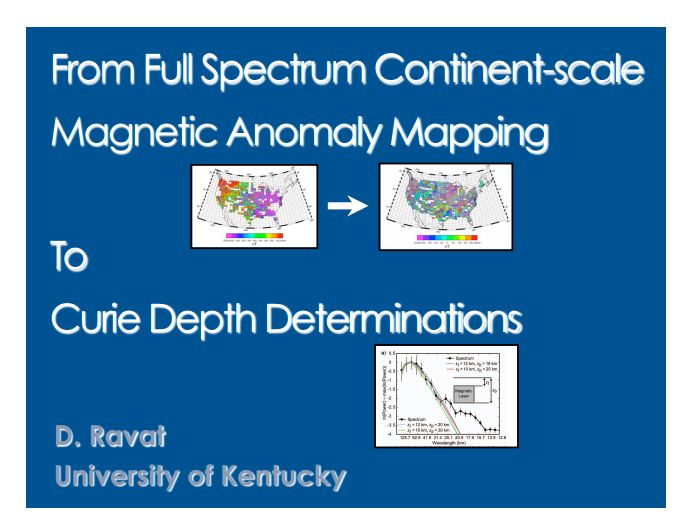 Biswas (2005) Thesis
NON-UNIQUENESS OF THE MODELED MAGNETIZATION VECTORS USED IN DETERMINING PALEOPOLES ON MARS
Biswas (2005) Thesis
NON-UNIQUENESS OF THE MODELED MAGNETIZATION VECTORS USED IN DETERMINING PALEOPOLES ON MARS
Current Highlight: The most advanced Swarm satellite-based global magnetic anomaly field model
Aspen Davis thesis on Mars dichotomy near InSight Lander site
Current Highlight: Magnetic field anomalies help deconstruct the paradigm of non-magnetic mantle
Prof. Ravat recently published an article in Nature Reviews | Earth and Environment, Magnetic sources in the Earth's mantle. Although it was widely considered for decades that the Earth's mantle could not be magnetic, recent results show that parts of the upper mantle (down to 660 km depth) carry a magnetic remanence. This review critically revisits mantle magnetism, discusses recent magnetic data and highlights several unresolved problems about the sources of this deep magnetism. In this study, Prof. Ravat and his colleagues from the U.S., Germany, and Spain, Drs. Ferré, Kupenko, Martín-Hernández, and Sanchez-Valle deconstruct the old paradigm and pave the way for new studies of our planet's deep interior. Their review further illustrates the power of multidisciplinary investigations and the benefits of international scientific collaboration.
These green colored rocks from the Earth's mantle can be magnetic where the mantle is relatively cold (with respect to the surrounding mantle)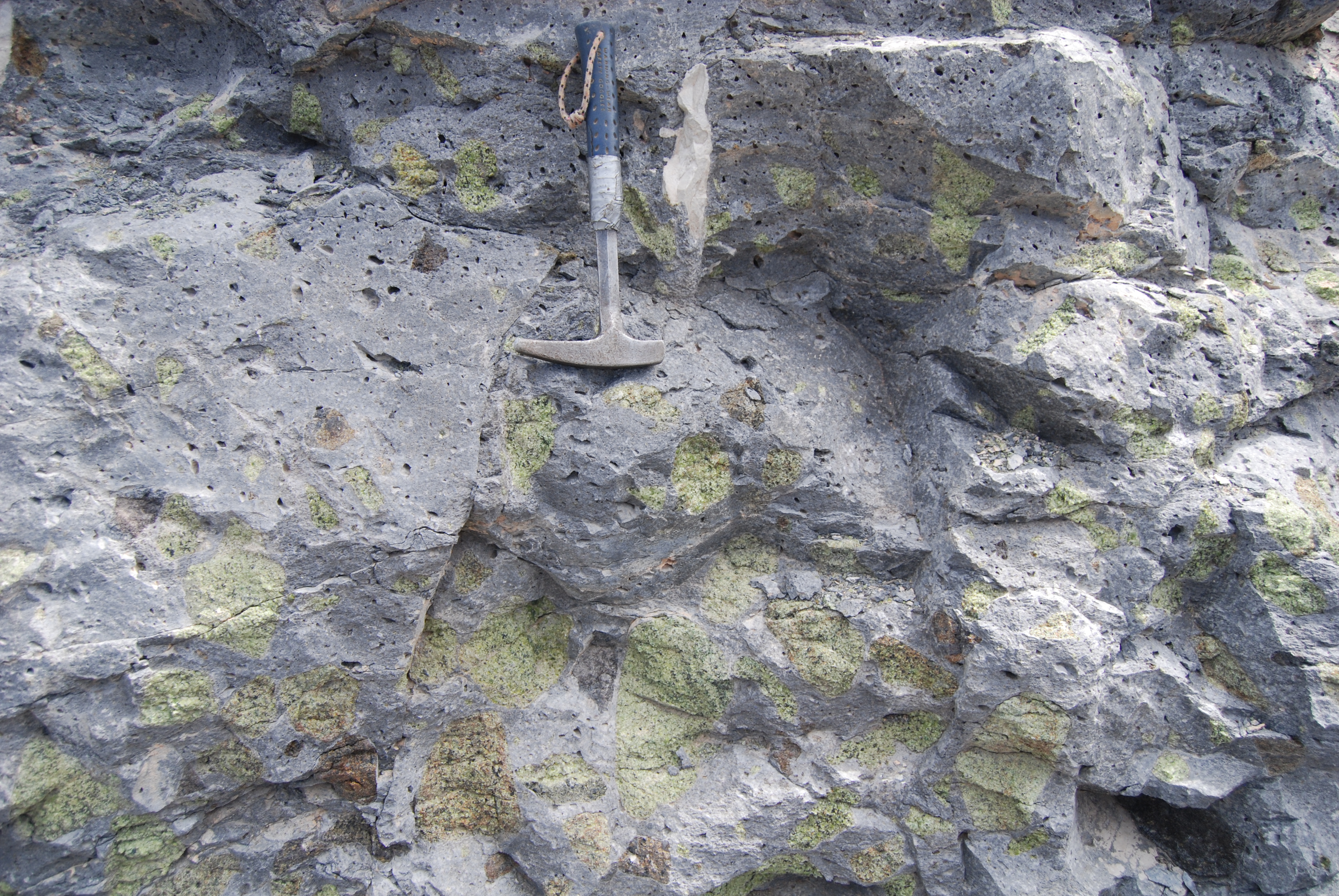 Article link: https://www.nature.com/articles/s43017-020-00107-x
 European Swarm and CHAMP satellite constellation based magnetic field variations of the Earth
Supplementary Material for Lunar Magnetic Field model paper
Lillie Cole Honor's Thesis on Lunar Swirls and Magnetics (2020)
LEWIS HONORS COLLEGE CAPSTONE COLLECTION
Selected Publications:
E-mail Prof. Ravat, at dhananjay.ravat@uky.edu for electronic copies of publication or copy the https address in your browser to access pdf version
 
Olsen, N., Ravat, D., and M.E. Purucker (2023). On the determination and interpretation of the lithospheric induced magnetization, Earth & Planetary Science Letters, 606, 118038.  DOI: https://doi.org/10.1016/j.epsl.2023.118038
Elbarbary, S., Abdel Zaher, M., Saibi, H., Fowler, A-R.,  Ravat, D., Marzouk, H., (2022). Thermal structure of the African continent based on magnetic data. Future geothermal renewable energy explorations in Africa. Renewable and Sustainable Energy Reviews, 158, DOI: 10/1016/j.rser.2022.112088
Kumar, R., Bansal, A. R., Betts, P. G., & Ravat, D. (2021). Re-assessment of the depth to the base of magnetic sources (DBMS) in Australia from aeromagnetic data using the defractal method. Geophysical Journal International, 225(1), 530-547. https://doi.org/10.1093/gji/ggaa601
Ferré, E., Kupenko, I., Martín-Hernández, F., Ravat, D., & Sanchez-Valle, C. (2020). Magnetic Sources in the Earth's Mantle, Nature Reviews Earth and Environment, DOI: 10.1038/s43017-020-00107-x
Ravat, D., Purucker, M. E., & Olsen, N. (2020). Lunar magnetic field models from Lunar Prospector and SELENE/Kaguya along‐track magnetic field gradients. Journal of Geophysical Research: Planets, 125, e2019JE006187. https://doi.org/10.1029/2019JE006187
Zhang, H. L., Ravat, D., & Lowry, A. R. (2020). Crustal composition and Moho variations of the central and eastern United States: Improving resolution and geologic interpretation of EarthScope USArray seismic images using gravity. Journal of Geophysical Research: Solid Earth, 125,  https://doi.org/10.1029/2019JB018537 
Zhang, H., D. Ravat, Y.R. Marangonis, G. Chen, X. Hu, 2018, Improved total magnetization direction determination by correlation of the normalized source strength derivative and the RTP fields, Geophysics, DOI: 10.1190/geo2017-0178.1
Cermak, V., S. Huang, D. Ravat, M. Verdoya, 2018, Editorial to Heat Flow: Recent Advances, Intl.J. Earth Sciences, 107, 1-3, DOI: 10.1007/s00531-017-1574-6
Olsen, N., D. Ravat, C.C. Finlay, L. Kother, 2017, LCS-1: a high-resolution global model of the lithospheric magnetic field derived from CHAMP and Swarm satellite observations, Geophys. J. Int., https://doi.org/10.1093/gji/ggx381
Ravat, D., P. Morgan, A. Lowry, 2016, Geotherms from the temperature-depth–constrained solutions of 1-D steady-state heat-flow equation, GEOSPHERE, 12,

https://doi.org/10.1130/GES01235.1
Catalán, M., J. Dyment, Y. Choi, M. Hamoudi, V. Lesur, E. Thébault, A. De Santis, T. Ishihara, J. Korhonen, T. Litvinova, J. Luis, B. Meyer, P. Milligan, M. Nakanishi, S. Okuma, M. Pilkington, Michael Purucker, D. Ravat, C. Gaina, S. Maus, Y. Quesnel, R. Saltus, and P. Taylor, 2016, Making a Better Magnetic Map. EOS, https:/doi.org/10.1029/2016EO054645
Dyment, J., Lesur, V., Hamoudi, M., Choi, Y., Thebault, E., Catalan, M., the WDMAM Task Force (Ravat, D.)*, the WDMAM Evaluators**, and the WDMAM Data Providers (Ravat, D.)**, 2015, World Digital Magnetic Anomaly Map version 2.0, map available at http://www.wdmam.org.
Paine, J., R. De Ritis, G. Ventura, M. Longo, D. Ravat, F. Speranza, M. Chiappinni, 2016, Inverse modelling of the reversely magnetized, shallow plumbing system hosting oil reservoirs of the Auca Mahuida volcano (Payeina retroarc, Neuqu´en Basin, Argentina), Geophys. J. Int., 204, 852-867, https://doi.org/10.1093/gji/ggv487
Ravat, D., L.W. Braile, W.J. Hinze, Erratum to Earthquakes and Plutons in the Midcontinent: Evidence from the Bloomfield Pluton (revelant to EarthScope results), New Madrid Rift Complex, Seism. Res. Lett., 58, 41–52, DOI: 10.1785/gssrl.58.2.41
Salem, A. R. Blakely, C. Green, D. Fairhead, D. Ravat, 2014, Estimation of depth to top of magnetic sources using the local-wavenumber approach in an area of shallow Moho and Curie depth — The Red Sea, Interpretation, 2, SJ1–SJ8, http://dx.doi.org/10.1190/INT-2013-0196.1
Zhang, H.L., D. Ravat, Y.R. Marangoni, X.Y. Hu, 2014, NAV-Edge: Edge detection of potential-field sources using normalized anisotropy variance, Geophysics, 79, J43-J53, DOI: 10.1190/GEO2013-0218.1
Salem, A., C. Green, D. Ravat, K. H. Singh, P. East, J. D. Fairhead, S. Mogren, E. Biegert, 2014, Depth to Curie temperature across the central Red Sea from magnetic data using the de-fractal method, Tectonophysics, 624-625, 75-86.
Zhang, H., D. Ravat, X. Hu, 2013, An improved and stable downward continuation of potential field data: The truncated Taylor series iterative downward continuation method, Geophysics, 78, J75-J86.
De Ritis, R. , D. Ravat, G. Ventura, and M. Chiappini, 2013, Curie isotherm depth from aeromagnetic data constraining shallow heat source depths in the central Aeolian Ridge (Southern Tyrrhenian Sea, Italy), Bull. Volcanol, 75, 710-xxx, DOI 10.1007/s00445-013-0710-9.
Ravat, D., A. Salem, A.M.S.Abdelaziz, E. Elawadi, and P. Morgan, 2011, Probing magnetic bottom and crustal temperature variations along the Red Sea margin of Egypt, Tectonophysics, 510, 337-344.
Ravat, D., 2011, Interpretation of Mars southern highlands high amplitude magnetic fieldwith total gradient and fractal source modeling: New insights into the magneticmystery of Mars, Icarus, 214, 400-412.
Ravat, D., 2011, Magnetic Methods, Satellite, Encyclopedia of Solid Earth Geophysics, Gupta, H.K. (ed.), Springer, 771-774.
Salem, A., Williams, S., Samson, E., Fairhead, D., Ravat, D., and R.J. Blakely, 2010, Sedimentary basins reconnaissance using the magnetic Tilt-Depth method, Exploration Geophysics, 41, 198-209.
Ravat, D., Finn, C., Hill, P., Kucks, R., Phillips, J., Blakely, R., Bouligand, C., Sabaka, T., Elshayat, A., Aref, A., and Elawadi, E.(2009) A preliminary, full spectrum, magnetic anomaly grid of the United States with improved long wavelengths for studying continental dynamics--A website for distribution of data: U.S. Geological Survey Open-File Report 2009–1258.
Hill, P.L., Kucks, R.P., and Ravat, D.(2009) Aeromagnetic and aeroradiometric data for the conterminous United States and Alaska from the National Uranium Resources Evaluation (NURE) Program of the U.S. Department of Energy: U.S. Geological Survey Open-File Report 2009–1129.
Wang, B., E.S. Krebes, D. Ravat (2008) High-precision potential-field and gradient-component transformations and derivative computations using cubic B-splines, Geophysics, 73 (I35), I42
Salem, A., S. Williams, J.D. Fairhead, R. Smith, D. Ravat (2008) Interpretation of magnetic data using tilt-angle derivatives, Geophysics, 73 (L1), L10
Korhonen, J., (and the rest alphabetically), J.D. Fairhead, M. Hamoudi, K. Hemant, V. Lesur, M. Mandea, S. Maus, M. Purucker, D. Ravat, T. Sazonova, E. Thebault, World Digital Magnetic Anomaly Map, 1:50 000 000, 1 sheet and 1 DVD, First Edition, Paris, CCGM-CGMW/UNESCO, 2007
Salem, A., S. Williams, J.D. Fairhead, D. Ravat, R. Smith (2007) Tilt-depth method: A simple depth estimation method using first order magnetic derivatives, The Leading Edge, 26, 1502-1505
Hemant, K., E. Thébault, M. Mandea, D. Ravat, S. Maus (2007) Magnetic anomaly map of the world: merging satellite, airborne, marine and ground-based magnetic data sets, Earth and Planetary Science Letters, 260, 56-71
Maus, S., T. Sazonova, K. Hemant, J. D. Fairhead, D. Ravat (2007) National Geophysical Data Center candidate for the World Digital Magnetic Anomaly Map, Geochemistry, Geophysics, Geosystems, 8 (Q06017), doi:10.1029/2007GC00
Ravat, D., A. Pignatelli, I. Nicolosi, M. Chiappini (2007) A study of spectral methods of estimating the depth to the bottom of magnetic sources from near-surface magnetic anomaly data, Geophysical Journal International, 169, 421-434
Bektas, O., D. Ravat, A. Büyüksarac, F. Bilim, A. Ates (2007) Regoinal geothermal characterization of East Anatolia from aeromagnetic, heat flow and gravity data, Pure and Applied Geophysics, 164, 975-998
Ravat, D. (2007) Upward and downward continuation, Encyclopedia of Geomagnetism and Paleomagnetism (Editors: D. Gubbins E. Herrero-Bervera), First Edition, Springer, 1020 pages, In Press, ISBN=1402039921 (bookchapter)
Ravat, D. (2007) Reduction to pole, Encyclopedia of Geomagnetism and Paleomagnetism (Editors: D. Gubbins E. Herrero-Bervera), First Edition, Springer, 1020 pages, In Press, ISBN=1402039921 (bookchapter)
Ravat, D. (2007) Crustal Magnetic Fields, Encyclopedia of Geomagnetism and Paleomagnetism (Editors: D. Gubbins E. Herrero-Bervera), First Edition, Springer, 1020 pages, In Press, ISBN=1402039921 (bookchapter)
Hinze, W.J., B. Coakley, T. Hildenbrand, G.R. Keller, X. Li, D. Plouff, D. Ravat, M. Webring (2006) Reply to "Vasanthi, A., Sharma, K.K., and Mallick, K., Discussion on the paper `New standards for reducing gravity data: The North American gravity database' by Hinze, W.J, Aiken, C.J. and 20 others: Geophysics, v. 70, No. 4, pp. J25-J32, 2005, Geophysics, 71, X32-X33
Bexfield, C.E., J.H. McBride, A.J.M. Pugin, D. Ravat, S. Biswas, W.J. Nelson, T.H. Larson, S.L. Sargent, M.A. Fillerup, B.E. Tingey, L. Wald, M.L. Northcott, J.V. South, M.S. Okure, and M.R. Chandler (2006) Integration of P- and SH-wave high resolution seismic reflection and micro-gravity techniques to improve interpretation of shallow subsurface structure: New Madrid seismic zone, Tectonophysics, 420, 5-21
Gaya-Pique, L.R., D. Ravat, A. De Santis, and J.M. Torta (2006) New model alternatives for improving the representation of the core magnetic field of Antarctica, Antarctic Science, DOI: 10.1017/S0954102006000095, 18, 101-109
Hinze, W.J., C. Aiken, J. Brozena, B. Coakley, D. Dater, G. Flanagan, R. Forsberg, T. Hildenbrand, G. R. Keller, J. Kellogg, R. Kucks, X. Li, A. Mainville, R. Morin, M. Pilkington, D. Plouff, D. Ravat, D. Roman, J. Urrutia-Fucugauchi, M. Véronneau, M. Web (2005) New standards for reducing gravity data: The North American gravity database, Geophysics, DOI: 10.1190/1.1988183, 70, J25-J32
Salem, A., D. Ravat, R. Smith, and K. Ushijima (2005) Interpretation of magnetic data using an enhanced local wavenumber (ELW) method, Geophysics, DOI: 10.1190/1.884828, 70, L7-L12
Salem, A., D. Ravat, T.J. Gamey, K. Ushijima (2005) Chapter 16: Detection of buried steel drums from magnetic anomaly data using an artificial intelligence technique, pp.513-523, In D.K. Butler (eds), Near-Surface Geophysics, Investigations in Geophysics No. 13, Tulsa, Society of Exploration Geophysicists, 732p. pages, ISBN=1-56080-130-1 (bookchapter)
Salem, A., D. Ravat, M.F. Mushayandebvu, K. Ushijima (2004) Linearized least-squares method for interpretation of potential-field data from sources of simple geometry, Geophysics, 69, 783-788
Milligan, P.R., R. Franklin, D. Ravat (2004) A new generation of Magnetic Anomaly Grid Database of Australia (MAGDA) - use of independent data increases the accuracy of long wavelength components of continental-scale merges, Preview, 113, 25-29
Ravat, D., and P.S. Millegan (eds.), Geophysics from Space (special Grav/Mag section), The Leading Edge, 22(8), 2003
Salem, A., and D. Ravat (2003) A combined analytic signal and Euler Method (AN-EUL) for automatic interpretation of magnetic data, Geophysics, 68, 1952-1961
Ravat, D., T.G. Hildenbrand, and W. Roest (2003) New way of processing near-surface magnetic data: The utility of the Comprehensive Magnetic Field Model, The Leading Edge, 22, 784-785
Ravat, D., and P.S. Millegan (2003) An introduction - Geophysics: Doing it in space, The Leading Edge, 22, 757-758
Ravat, D. (2003) New uses of continuous coverage satellite magnetic field data in studying the Earth's lithosphere In P. Stauning, H. Lühr, P. Ultre-Guerard, J. LaBrecque, M. Purucker, F. Primdahl, J. Jorgensen, F. Christiansen, P. Hoeg, and K. Lauritsen (eds), OIST-4 Proceedings, Copenhagen, Narayana Press, 79-82 pages (bookchapter)
Wheeler, R.L., and D. Ravat (editors, special issue), The Illinois basin: Seismicity, Quaternary faulting, and Seismic Hazard, Seismological Research Letters, 73(5), 2002
Wheeler, R.L., and D. Ravat (2002) Introduction to the special issue on Seismic hazards of the Illinois basin, Seismological Research Letters, 73, 590-596
Hildenbrand, T.G., J.H. McBride, and D. Ravat (2002) The Commerce geophysical lineament and its possible relation to Mesoproterozoic igneous complexes and large earthquakes in the central Illinois Basin, Seismological Research Letters, 73, 640-659
Salem, A., D. Ravat, T.J. Gamey, and K. Ushijima (2002) Analytic signal approach and its applicability in environmental magnetic investigations, Journal of Applied Geophysics, 49, 231-244
Ravat, D., K. Kirkham, and T.G. Hildenbrand (2002) A source-depth separation filter: Using the Euler method on the derivatives of total intensity magnetic anomaly data, The Leading Edge, 21, 360-365
Ravat, D., K.A. Whaler, M. Pilkington, T. Sabaka, and M. Purucker (2002) Compatibility of high-altitude aeromagnetic and satellite-altitude magnetic anomalies over Canada, Geophysics, 67, 546-554
Ravat, D. B. Wang, E. Wildermuth, P.T. Taylor (2002) Gradients in the interpretation of Satellite-altitude Magnetic Data: An Example from Central Africa, J. Geodynamics, 33, 131-142
Ravat, D. and M. Purucker (2002) Unraveling the Magnetic Mystery of the Earth's Lithosphere: The Background and the Role of the CHAMP Mission In C. Reigber, H. Luehr, P. Schwintzer (eds), In: C. Reigber, H. Luehr, P. Schwintzer (Eds.), First CHAMP Mission Results for Gravity, Magnetic and Atmospheric Studies, Springer-Verlag, Heidelberg, Heidelberg, Springer-Verlag, 251-260 pages (bookchapter)
Salem, A., D. Ravat, R. Johnson, and K. Ushijima (2001) Detection of Buried Steel Drums from Magnetic Anomaly Data using a Supervised Neural Network, Journal of Environmental Engineering and Geophysics, 6, 115-122
Salem, A., K. Ushijima, T.J. Gamey, and D. Ravat (2001) Automatic detection of UXO from airborne magnetic data using a neural network, Journal of Subsurface Sensing Technologies and Applications, 2 (3), 193-215
Purucker, M., D. Ravat, H. Frey, C. Voorhies, T. Sabaka, and M. Acuna (2000) An altitude-normalized magnetic map of Mars and its interpretation, Geophysical Research Letters, 27, 2449-2452
Ravat, D. (2000) Magnetohydrodynamic Waves in the Earth In P.L. Hancock and B.J. Skinner (eds), The Oxford Companion to the Earth, P.L. Hancock and B.J. Skinner (eds.), Oxford University Press, Oxford, U.K., Oxford, U.K., Oxford University Press, 632 pages (bookchapter)
Ravat, D. (2000) Magnetic Field: Origin of Internal Field In P.L. Hancock and B.J. Skinner (eds), The Oxford Companion to the Earth, P.L. Hancock and B.J. Skinner (eds.), Oxford University Press, Oxford, U.K., Oxford, U.K., Oxford University Press, 631 pages (bookchapter)
Ravat, D. (2000) Magnetic Pole In P.L. Hancock and B.J. Skinner (eds), The Oxford Companion to the Earth, P.L. Hancock and B.J. Skinner (eds.), Oxford University Press, Oxford, U.K., Oxford, U.K., Oxford University Press, 630-631 pages (bookchapter)
Ravat, D. (2000) Geomagnetism: Polarity Reversals In P.L. Hancock and B.J. Skinner (eds), The Oxford Companion to the Earth, P.L. Hancock and B.J. Skinner (eds.), Oxford University Press, Oxford, U.K., Oxford, U.K., Oxford University Press, 422-423 pages (bookchapter)
Ravat, D. (2000) Geomagnetism: Main Field, Secular Variation and Westward Drift In P.L. Hancock and B.J. Skinner (eds), The Oxford Companion to the Earth, P.L. Hancock and B.J. Skinner (eds.), Oxford University Press, Oxford, U.K., Oxford, U.K., Oxford University Press, 421-422 pages (bookchapter)
Ravat, D. (2000) Geomagnetism: External Fields In P.L. Hancock and B.J. Skinner (eds), The Oxford Companion to the Earth, P.L. Hancock and B.J. Skinner (eds.), Oxford University Press, Oxford, U.K., Oxford, U.K., Oxford University Press, 420-421 pages (bookchapter)
Ravat, D. (2000) Geomagnetic Measurement, Techniques and Surveys In P.L. Hancock and B.J. Skinner (eds), The Oxford Companion to the Earth, P.L. Hancock and B.J. Skinner (eds.), Oxford University Press, Oxford, U.K., Oxford, U.K., Oxford University Press, 417-420 pages, ISBN=978-0-19-8540 (bookchapter)
Ravat, D. (2000) Curie Temperature In P.L. Hancock and B.J. Skinner (eds), The Oxford Companion to the Earth, P.L. Hancock and B.J. Skinner (eds.), Oxford University Press, Oxford, U.K., Oxford, U.K., Oxford University Press, 202-203 pages, ISBN=978-0-19-8540 (bookchapter)
Ravat, D. (2000) Aeromagnetic Surveying In P.L. Hancock and B.J. Skinner (eds), The Oxford Companion to the Earth, P.L. Hancock and B.J. Skinner (eds.), Oxford University Press, Oxford, U.K., Oxford, U.K., Oxford University Press, 6-7 pages, ISBN=978-0-19-8540 (bookchapter)
Ravat, D., and M. Purucker (1999) The future of satellite magnetic anomaly studies is bright!, The Leading Edge, 18, 326-329
Ravat, D., Z. Lu, and L.W. Braile (1999) Velocity-density relationships and modeling the lithospheric density variations of the Kenya Rift, Tectonophysics, 302, 225-240
Ravat, D., and P.T. Taylor (1998) Determination of depths to centroids of three-dimensional sources of potential-field anomalies with examples from environmental and geologic applications, Journal of Applied Geophysics, 39, 191-208
Hildenbrand, T.G. and D. Ravat (1997) Geophysical Setting of the Wabash Valley Fault System, Seismological Research Letters, 68, 567-585
Taylor, P.T., and D. Ravat (1997) Reply to comments by R. Pucher and T. Wonik on 'An interpretation of the Magsat anomalies of central Europe, J. Applied Geophys., 34, 83-91,', Journal of Applied Geophysics, 36, 217-219
Ravat, D. (1996) Analysis of the Euler method and its applicability in environmental magnetic investigations, Journal of Environmental Engineering and Geophysics, 1, 229-238
Ravat, D. (1996) Magnetic properties of unrusted steel drums from laboratory and field-magnetic measurements, Geophysics, 61, 1325-1335
Taylor, P.T., and D. Ravat (1995) An interpretation of the Magsat anomalies of central Europe, Journal of Applied Geophysics, 34, 83-91
Ravat, D., R.A. Langel, M. Purucker, J. Arkani-Hamed, and D.E. Alsdorf (1995) Global vector and scalar Magsat magnetic anomaly maps, Journal of Geophysical Research - Solid Earth, 100, 20111-20136
Ravat, D., W.J. Hinze, and P.T. Taylor (1993) European tectonic features observed by Magsat, Tectonophysics, 220, 157-173
Ravat, D. and W.J. Hinze (1993) Considerations of variations in ionospheric field effects in mapping equatorial lithospheric Magsat anomalies, Geophysical Journal International, 113, 387-398
Taylor, P.T., W.J. Hinze, and D. Ravat (1992) The Search for Crustal Resources: Magsat and Beyond, Adv. Space Res., 12, (7)5-(7)15
Ravat, D., W.J. Hinze, and R.R.B. von Frese (1992) Analysis of MAGSAT Magnetic Contrasts across the African and South American Lithospheric Plates, Tectonophysics, 212, 59-76
Hinze, W.J., R.R.B. von Frese, and D. Ravat (1991) Mean Magnetic Contrasts between Oceans and Continents, Tectonophysics, 192, 117-128
Ravat, D., W.J. Hinze, R.R.B. von Frese (1991) Lithospheric Magnetic Property Constrasts within the South American Plate Derived from Damped Least-Squares Inversion of Satellite Magnetic Data, Tectonophysics, 192, 159-168
Goyal, H.K., R.R.B. von Frese, W.J. Hinze, and D. Ravat (1990) Statistical Prediction of Satellite Magnetic Anomalies, Geophysical Journal International, 102, 101-111
von Frese, R.R.B., W.J. Hinze, C.A. McGue, and D. Ravat (1989) Use of Satellite Magnetic Anomalies for Tectonic Lineament Studies, in Qureshy, M.N., and W.J. Hinze (eds.), Regional Geophysical Lineaments - Their Tectonic and Economic Significance, Geol. Survey of India Memoir, 12, 171-180
von Frese, R.R.B., D. Ravat, W.J. Hinze, and C.A. McGue (1988) Improved Inversion of Geopotential Field Anomalies for Lithospheric Investigations, Geophysics, 53, 375-385
Ravat, D., L.W. Braile, and W.J. Hinze (1987) Earthquakes and Plutons in the Midcontinent - Evidence from the Bloomfield Pluton, Seismological Research Letters, 58, 41-52