News
January 2016: We were awarded two grants for new research in the Pantanal wetlands - one from the National Geographic Explorer Program, and another from the UK Vice President for Research. These awards will allow us to push our Quaternary lake studies forward in the Pantanal in partnership with Aguinaldo Silva at UFMS-CPAN.
April 2016: M.S. student Edward Lo was awarded an NSF graduate research fellowship for his proposal on climate change in the Pantanal wetlands. Congratulations Edward!
April 2016: M.S. student Patrick Baldwin successfully defended his thesis. Congratulations Patrick!
April 2016: M.S. student Bailee Hodelka was a member of UK's Imperial Barrel Award Team, which won the second place medal at the AAPG Eastern Section competition. Way to go Bailee! #bigblueprospect
April 2016: B.S. student Darion Carden successfully presented her research on Brazilian floodplain lake sediment cores at UK's Undergraduate Research Showcase. Congratulations Darion!
May, 2016: I travelled to China with colleagues Geoff Ellis and Daniel Xia for talks and an Ordos Basin field trip with scientists from Petrochina, in support of our coal gas basins JIP.
May 2016: Joseph Lucas, Zac Perlman, Eva Lyon and I initiated new research on June Lake in support of our East Sierras paleoclimate and paleolimnology emphasis area. New cores and CHIRP seismic data were collected, which Eva will use for her first project at UK.
June 2016: I travelled to Brazil to complete fieldwork in the Pantanal for our National Geographic project, in conjuction with partner Aguinaldo Silva and Fred Gradella at UFMS, and Giliane Rasbold at UEM. I also travelled to USP to meet with colleagues working on core records from floodplain lakes in the lower Amazon watershed.
July-August 2016: Joseph Lucas and I travelled to Lake Tanganyika to complete the side scan sonar and coring operations associated with our Geoscientists Without Borders grant. Our work was completed with colleagues Mike Soreghan and Emily Ryan (OU), Ishmael Kimirei and Athanasio Mbonde (TAFIRI), and Katie Wagner (UW). 
August-September 2016: We welcome Eva Lyon officially to UK - she will be collaborating with me on a new study of high altitude lakes in the Eastern Sierra Nevada.  The lab also welcomed Rudney de Almeida Santo from USP, who visited us for a few days to initiate work on a cave near the border of the Pantanal.
Summer 2016: Meredith O'Dell was awarded a weeks grant from the AAPG Foundation. Congrats Meredith!
September 2016: UK undergraduate Andrew Duffy joined the lab to work on climate and paleoclimate problems in western Brazil. Welcome Andrew! This work will push forward the research that we initiated during the visit of Rudney de Almeida Santo.
September 2016: I travelled to LacCore (www.laccore.org) with OU graduate student and colleague James Busch, to open up and sub-sample a few of the new Lake Tanganyika cores we collected this summer. The work was successful, thanks in large part to the diligence and patience of LacCore staff and curators - they are the best in the business!
September 2016: The students and I participated in the AAPG Eastern Section meeting in Lexington on the 24th-26 - I presented a synthesis on the Lower Wolfcamp project along with student co-authors and scientists from Pioneer Natural Resources.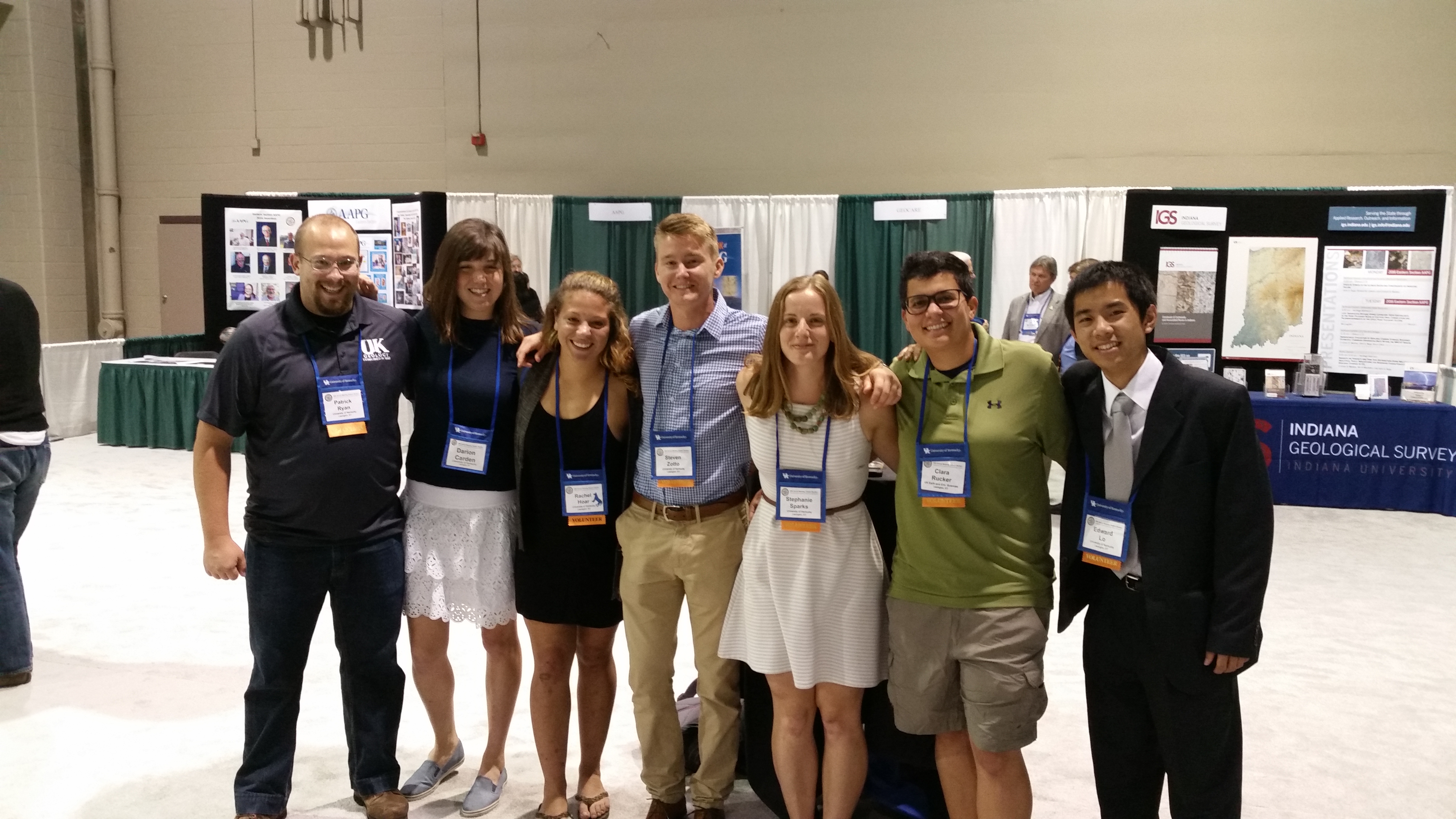 October 2016: another major field campaign to the eastern Sierras, this time to core June Lake. This project will form a chapter of Eva Lyon's dissertation.  I also hosted colleagues from Petrochina for field trips to coal basins in Colorado and California.
November 2016: Ryan Thigpen, Andrea Erhardt and I travelled to Pioneer Natural Resources for some presentations which have resulted in new funding opportunities. I also attended the Continental Scienific Drilling Coordination Office's paleo-records workshop in Washington DC, where the Tanganyika Drilling Project was discussed at some length.