Laboratory Facilities
My laboratory is currently under construction and will occupy space in rooms 106, 106A and a portion of 106B in the Slone Research Building.  Check back soon for updates!
May 2015 Update: The lab has recently taken delivery of a UWITEC percussion lake coring platform - one of the few in the United States. We have also acquired new high-resolution CHIRP sonar capability from Knudsen Engineering - the lab's capablities in paleolimnology are growing rapidly.  Field tests of the new equipment are planned for the fall. The Pioneer lab recently puchased a Nikon research-grade petrographic microscope and digitial imaging system, which will support all of our projects.   
June 2014 Update: Renovations to the Pioneer Lab are now mostly complete, and UK held a lovely ribbon cutting ceremony in February to mark the occasion. Thanks to all those who attended, including representatives of Pioneer Natural Resources, Lexmark, UK A&S, and of course, EES students, faculty and staff.  Check out the photos from the event here: http://ees.as.uky.edu/pioneer-natural-resources-stratigraphy-and-paleo-e.... We are slowly acquiring our analytical equipment and field gear.  Several major purchases have been made and we are expecting to take delivery of our seismic profiler, coring rig, and petrographic microscope soon.
January 2014 Update: Although I am not yet able to move in, I am happy to report that renovations to Slone 106 are now well underway.  The Pioneer Stratigraphy and Paleoenvironments Lab has new doors, electrical, floors, casework (thanks to a generous donation from Lexmark), and fume hoods (x2).  The integrated office space is coming together nicely.  Both fume hoods, new sinks, and casework have been installed in the wet lab (Slone 106A).  The ceilings and walls were re-painted over the holidays - a beige and black motif seems to be the order of the day.  The storage room (106B) is still a work in progress, but if the current timeline is accurate, I will be able to take occupancy at the end of the month.  Major purchases have already begun, and I'm looking forward to using the lab to teach a research methods course in Paleolimnology/Paleoceanography this spring. A ribbon cutting ceremony has been planned for mid February - looking forward to it!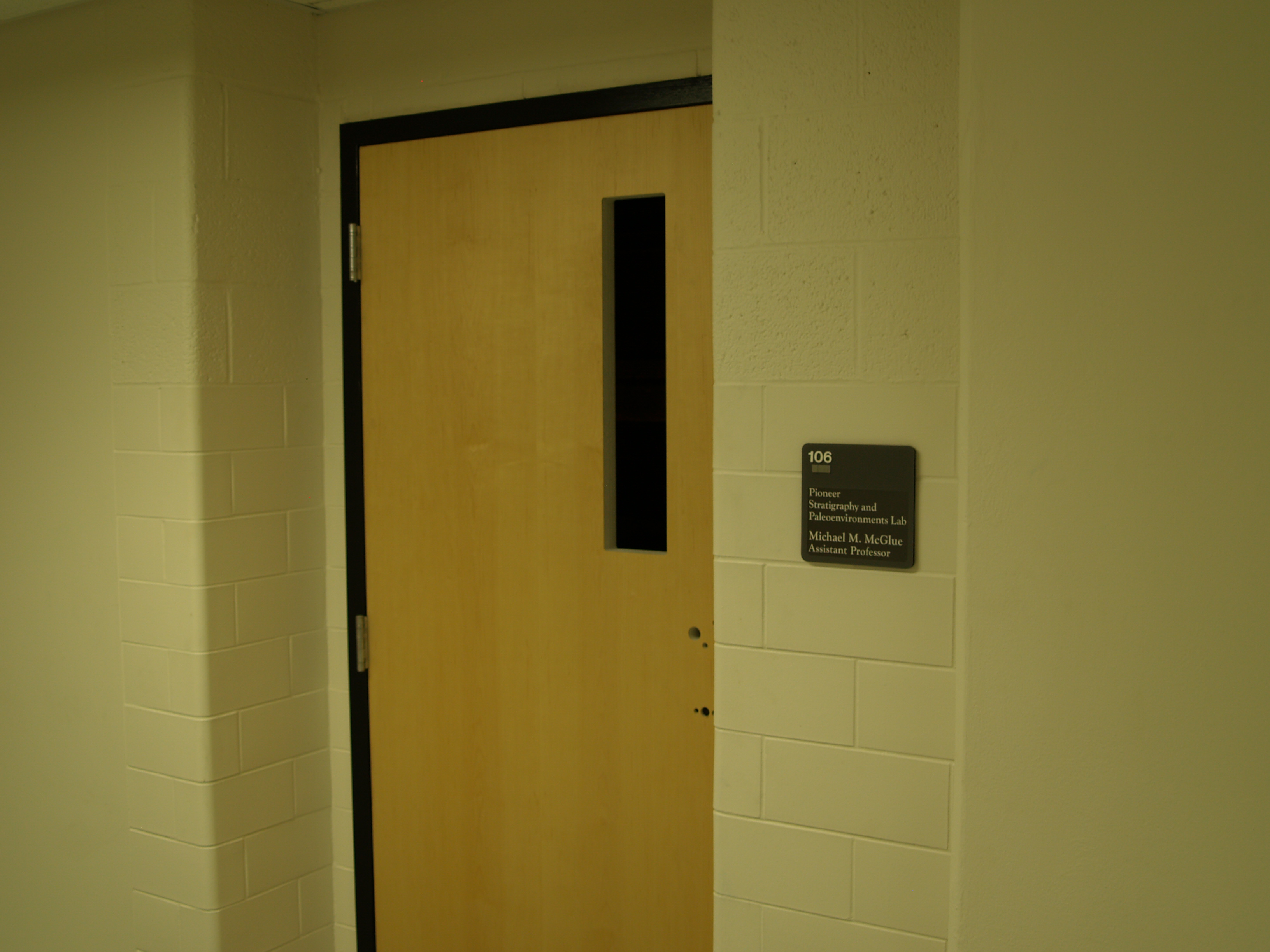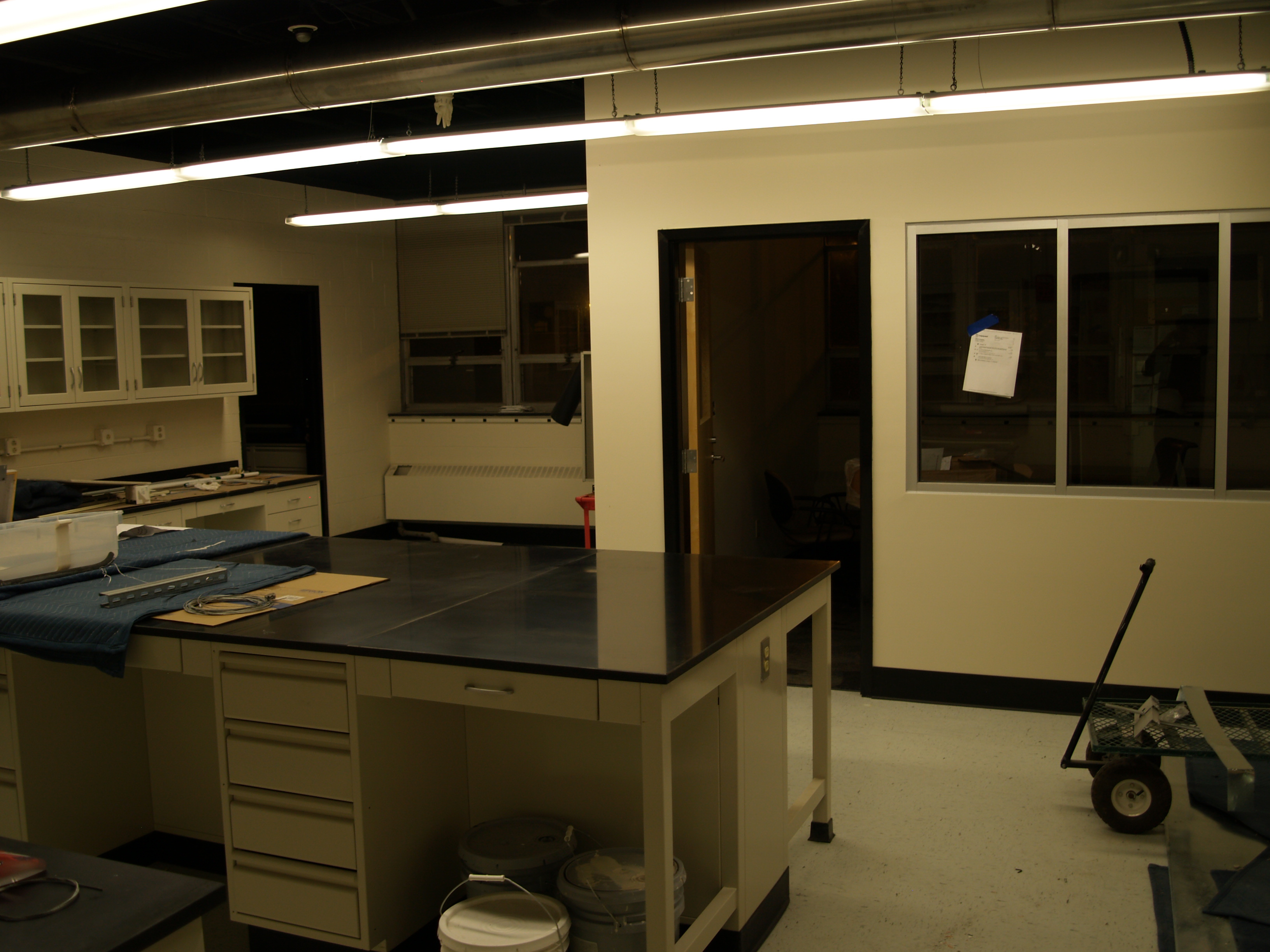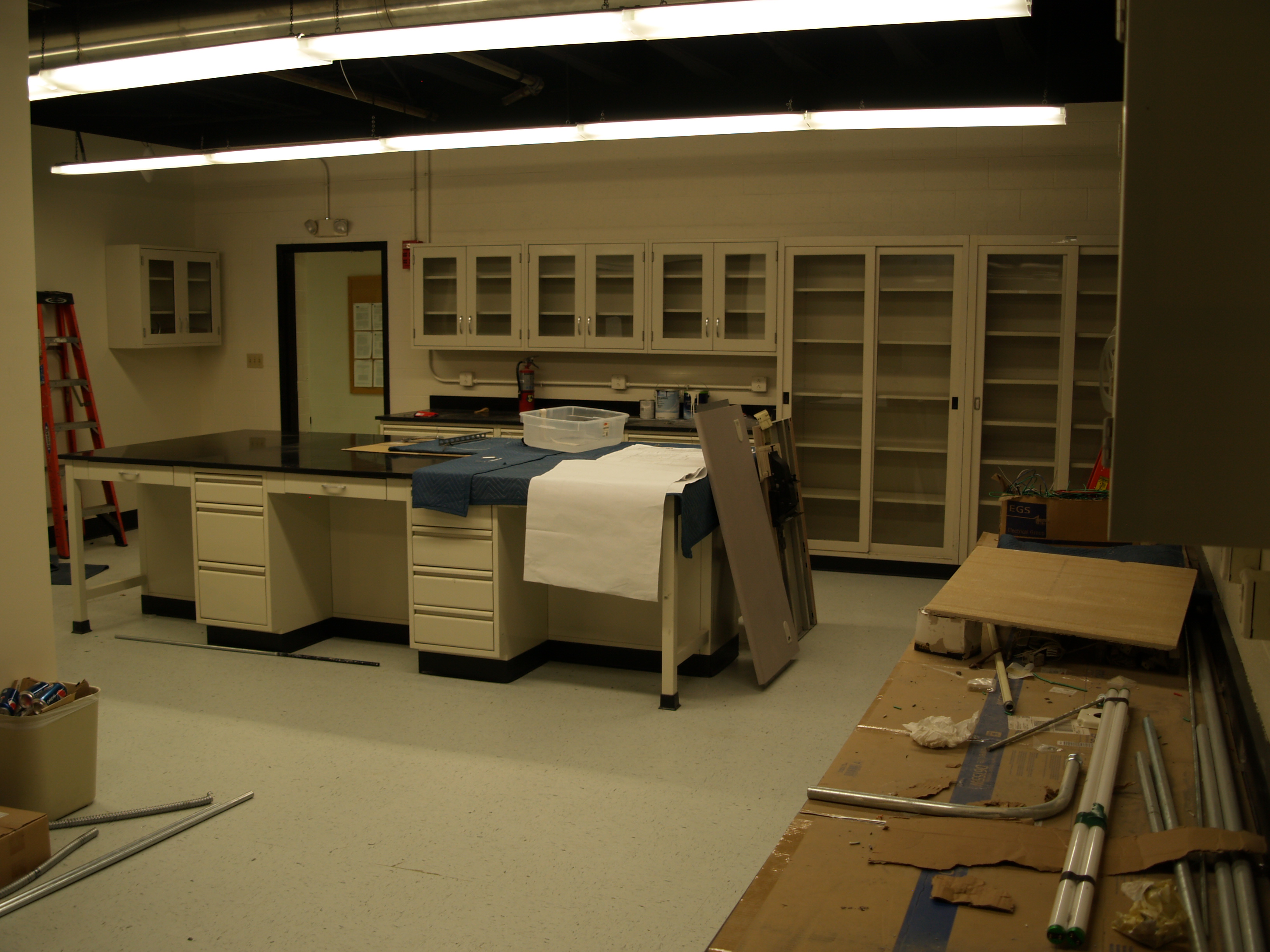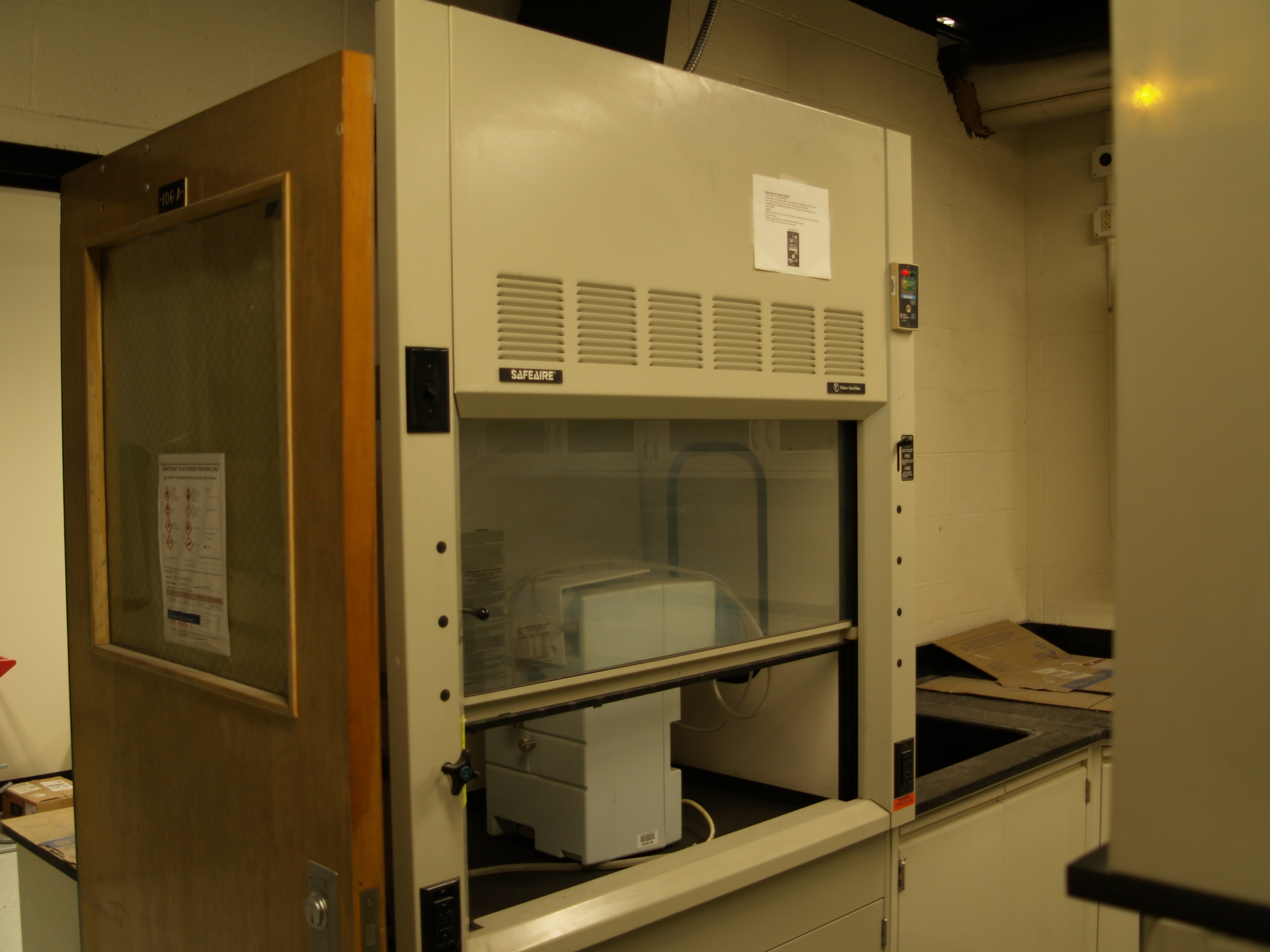 December 2013 Update: Slone 106 is slowly but surely being transformed into the Pioneer Stratigraphy and Paleoenvironments Lab. Given the current pace, we are hopeful that renovations will be complete in January. Some of the casework is in place and construction of the office space is underway.  The central island workspace in 106 can accommodate 6 students, and the microscope bench will accommodate 2 more.  Two computer workstations (with Kingdom Suite) will occupy the wall on the right in the first photo. The large fume hood has arrived in the wet lab (106A), and the island workspace has also been set up.  106A will house the Sedigraph and prep stations for clay mineralogy, bulk powder XRD, XRF, grain size, and elemental analysis. 106B (not shown) will serve as a storage area for our CHIRP seismic and coring systems, as well as a core freezer. Still a long way to go, but a far cry from the old student computer lab.  Many thanks are due to Pete Idstein for stewarding the renovation process.