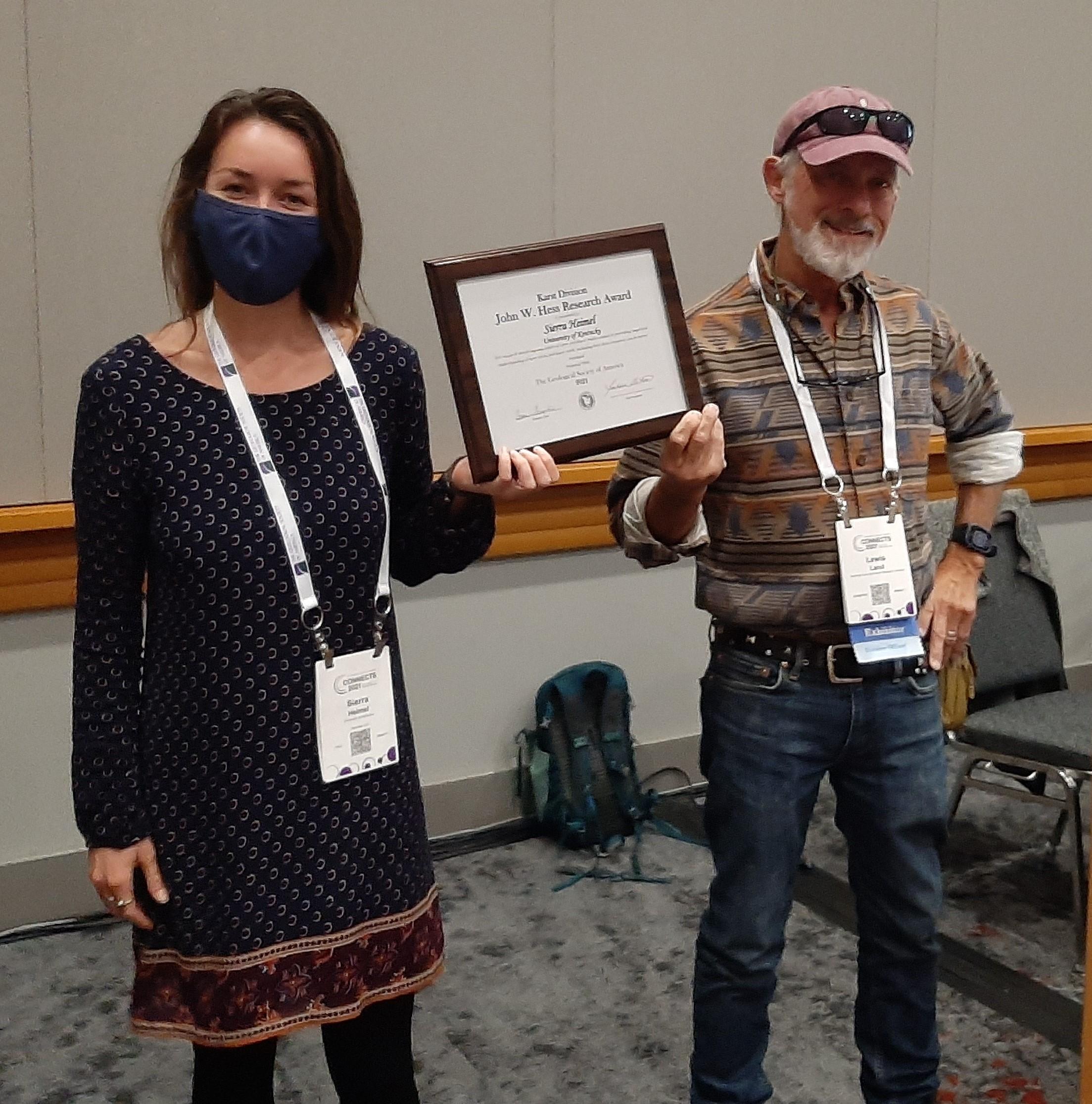 LEXINGTON, Ky. – Sierra Heimel has an award-winning passion for hanging out in low places: caves.  
"I enjoy this sub-field of geology for the fieldwork," she said. "Caves are like visiting another planet, and if you're lucky, you can discover a place or a thing that literally no other human has seen before. Caves are not only a great natural laboratory; they are also an explorer's dream." 
Heimel, a master's student in the Department of Earth and Environmental Sciences at the University of Kentucky's College of Arts & Sciences, recently received the John W. Hess Research Award in karst studies from the Geological Society of America.  The award supports graduate student research into cave and karst studies; karst is a landform created by the dissolution of limestone, dolomite or gypsum rocks. Heimel is conducting her research with Benjamin Tobin and Gina Lukoczki with the Kentucky Geological Survey. The award is $2,500. 
 "Kentucky is famous for karst - karst and caves are extremely important to water resources, natural hazards, biodiversity and ecotourism, and they even provide detailed records of environmental change," said Michael McGlue, director of Graduate Studies in the Department of Earth and Environmental Sciences. "UK's karst studies group is taking a prominent role in a number of cave-related studies around the nation. Sierra, along with her advisers, have made some important discoveries in their research of the Grand Canyon cave systems. This was recognized with the John W. Hess award. The entire department is delighted for Sierra, and we are so proud of her and her accomplishments." 
Heimel and her advisers are helping to create new models for how the Double Bopper Cave in the Grand Canyon developed – a process called "speleogenesis." Double Bopper is the longest cave in the Grand Canyon, Heimel said. It has 40 miles of mapped passages. She is using a variety of methodologies, including geospatial, geochemical and structural analyses.  
"This award will greatly improve my abilities to complete the geochemical analyses necessary for this research," Heimel said. "It will also help fund the costs necessary for fieldwork in the Grand Canyon to sample bedrock and mineral chemistries."  
Heimel and her colleagues suggest that Double Bopper is a hypogene cave. That's the kind of cave formed by sulfuric acid, which rises from below and may contaminate groundwater. She's studying the cave to help scientists understand water sources for the Grand Canyon region, including an essential aquifer, and how a longstanding drought in the West will affect this resource.   
"This research is important because the groundwater system of the Grand Canyon region is primarily karstic," she said. "The karstic R-aquifer is the sole source of water for Grand Canyon National Park's 5 million annual visitors and to the various tribal nations in the region. Understanding how caves are formed holds major implications for better understanding the characteristics and evolution of the R-aquifer, especially for resource managers who are concerned about aquifer storage capacity and vulnerability."