Earth and Environmental Sciences Professor Honored for International Outreach on Water Issues
By Jenny Wells, Rebecca Freeman
Alan Fryar, an associate professor in the University of Kentucky
Department of Earth and Environmental Sciences (EES)
, received the 2016 International Association of Hydrogeologists, U.S. National Chapter International Service Award at the recent national meeting of the Geological Society of America in Denver, Colorado.
Fryar studies water quality, particularly water in the ground used for drinking water. Groundwater is the largest source of unfrozen fresh water on Earth, but access to sufficient amounts of clean water is a challenge in developing countries. The International Service Award honored Fryar's 15 years of working on this problem with students and scientists in Africa and Asia, including developing a program to train graduate students from these regions.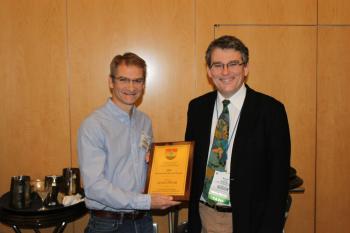 "Alan is not only an educator who instills a love of learning and exploring the unknown but someone whose actions inspire hope and compassion," said Cara Peterman, one of Fryar's doctoral students. "Leadership is not about title or designation, but about the influences and impacts that one has on another, whether it is a small gesture to a few or large contribution to the whole. Alan has embodied what it means to be a true leader, not just to the hydrogeologic community, but to the world in general. Having Alan as an advisor and mentor, I can say with all honesty and humility that if I end up being half the hydrogeologist and humanitarian that Alan is, then I will have led an amazing life."
Fryar has spent time working as a scientist in Morocco and Pakistan as a Fulbright Senior Specialist. He has also hosted scientists from the same program visiting the U.S. from Morocco and Niger. This outreach is part of his laboratory's overall research agenda, which has been funded by such agencies as the National Science Foundation, the U.S. State Department, the U.S. Department of Energy and the U.S. Geological Survey.
The Department of Earth and Environmental Sciences' commitment to the study of the Earth extends to the communities that are impacted by Earth processes, as EES Chair Dave Moecher points out.
"Professor Fryar has made international research engagement a priority for the past decade," Moecher said. "Much of this research provides international exchange opportunities for senior scientists and students from the developing world. He has either traveled in or supported visits by scientists and students from China, India, Morocco, Niger, Thailand, Pakistan, Indonesia, Algeria and Saudi Arabia. He has collaborated on research projects with faculty from Egypt, Sweden, Iran and Bangladesh. And he has had graduate students from India, Nepal and Eritrea complete the Ph.D. degree under his supervision. He is so dedicated to international scholarship that he even took four semesters of French at UK, in order to be able to communicate more effectively with his international colleagues from Morocco and Niger."
UK is the University for Kentucky. At UK, we are educating more students, treating more patients with complex illnesses and conducting more research and service than at any time in our 150-year history. To read more about the UK story and how you can support continued investment in your university and the Commonwealth, visit uky.edu/uk4ky. #uk4ky #seeblue