Brief Field Camp History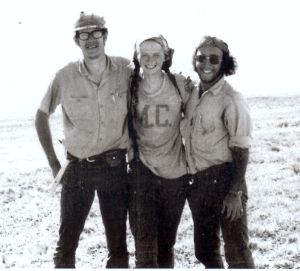 UK Geology majors have been travelling to western Colorado for "Field Camp" since the late 1940's. In its heyday the camp was located along Cement Creek southeast of Crested Butte, Colorado in Gunnison National Forest. The camp consisted of army surplus canvas tents on concrete slabs with "dorm" tents, a kitchen tent with gas powered refrigerators, and an office tent. Students bathed in the icy waters of Cement Creek.  Once a week students were permitted to travel to Crested Butte for R & R, do their laundry, and shop for personal needs.  Crested Butte was originally a coal mining town then a low key ski area in the early 1960s that became a hippy haven in the 1970s. Crested Butte still maintains a laid-back attitude that contrasts with their chic neighbors across the Sawatch Range in Aspen. The UK students participated in the famous and wild Crested Butte Fourth of July Parade, creating parade floats from the UK field vehicles.
The current "Camp" is now based at Western State College in Gunnison, Colorado. Students share an efficiency dorm room with another student and have the luxury of being able to take a daily shower and sleep in a bed. They can walk to Wal-Mart to shop, to the Blue Iguana in downtown Gunnison for a giant burrito, or to the Gunnison Brewery to quench their thirst…of course only after getting their map inked and colored! The main geologic mapping project is still centered on the Cement Creek area southeast of Crested Butte.  Crested Butte now has a suburb that extends south to the entrance to the valley, so be prepared for urban sprawl in that once sleepy valley.