Sean Bemis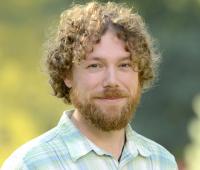 Ph.D., Geological Sciences, University of Oregon, 2010
M.S., Geology, University of Alaska Fairbanks, 2004
B.S., Geology, University of Alaska Fairbanks, 2001

The core of my research interests is the geologic study of active faults and related deformation, both as a means of recognizing potential seismic hazards and as a tool for understanding the processes of tectonic deformation of fault systems through time. Such study requires an integrated approach, employing techniques of structural geology, geomorphology, geophysics, and Quaternary stratigraphy. 
Please contact me if you are interested in pursuing research in topics related to active tectonics, structural geology, and Quaternary geology at the University of Kentucky.  Prospective students need to be self-motivated and scientifically curious, and potentially valuable skills include GIS and digital mapping, structural and 3D modeling experience, and backcountry/remote fieldwork experience.
Current Projects:
For more details on these projects, please see the "Current Projects" link to the right
The initiation and evolution of the Mount McKinley restraining bend of the Denali fault. (with co-PI Jeff Benowitz (UAF))
Development of the paleoearthquake record for the southern San Andreas fault at Elizabeth Lake, California. (with co-PIs Kate Scharer (USGS) and James Dolan (USC))
Use of Structure-from-Motion (SfM) photogrammetry for rapid construction of high-resolution 3D surface models for paleoseismic and structural geology studies (with Steve Micklethwaite (U. Western Australia)
Characterization of the slip rate and paleoearthquake record for the Hines Creek fault at the Nenana River, Denali National Park, Alaska. 
Tectonic geomorphology and paleoearthquake record of the Denali fault at the Nenana River, Alaska. 
Latest Pleistocene/Holocene displacement of the Northern Foothills thrust and characterization of the near-surface fault geometry at the Nenana River, Alaska. 
Hillslope geomorphology of periglacial environments and the boreal forest.  
Projects in Development:
Use of progressively-deformed geomorphic surfaces to constrain thrust fault kinematics and fault interactions within fold-thrust belts
Application of isochron cosmogenic burial dating techniques to constraining ages of terraces in complex geomorphic environments and the nature and timing of regional aggradational events
Temporal, spatial, and structural relationships between active normal faults and cinder cone emplacement in central Oregon.
<br>
The Japan Hills anticline uplifts and folds the former foreland basin surface at the northern margin of the Alaska Range.  Mapping and surveying of fluvial terraces in this region led to the recognition of previously unknown faults with likely Holocene displacement and provided a means of interpreting the subsurface fault geometries for the active faults. 
Recently faulted debris flow and alluvial surfaces north of Denali and the Mount McKinley restraining bend of the Denali fault. The highest peak in the back-right is the north peak of Denali, and is on the opposite side of the Denali fault from this location.  View is to the south. 
Section of a trench exposure at the Elizabeth Lake paleoseismic site on the southern San Andreas fault, CA.  Note the beautiful duplex structure that folds the overlying ~1 m of sediment whereas the uppermost tan unit is undeformed, indicating that the duplex-forming earthquake occurred recently in the stratigraphic record at this site. The primary strike-slip fault zone is to the right of this picture and this contractional structure likely formed through secondary deformation associated with coseismic displacement on the main fault trace.
Selected Publications:
Bemis, S.P., Weldon, R.J., and Carver, G.A., 2015, Slip partitioning along a continuously curved fault: Quaternary geologic controls on Denali fault system slip partitioning, growth of the Alaska Range, and the tectonics of south-central Alaska: Lithosphere, p. L352.1, doi: 10.1130/L352.1.
Bemis, S., Micklethwaite, S., Turner, D., James, M.R., Akciz, S., Thiele, S., and Bangash, H.A., 2014, Ground-based and UAV-Based photogrammetry: A multi-scale, high-resolution mapping tool for Structural Geology and Paleoseismology: Journal of Structural Geology, doi: 10.1016/j.jsg.2014.10.007.
Bemis, S.P., Carver, G.A., and Koehler, R.D., 2012, Quaternary thrust system of the northern Alaska Range foothills: Geosphere, v. 8, n. 1, p. 196-205.
Carver, G.A., Bemis, S.P., Solie, D.N., Castonguay, S., and Obermiller, K.E., 2010, Active and potentially active faults in or near the Alaska Highway corridor, Dot Lake to Tetlin Junction, Alaska: Alaska Division of Geological & Geophysical Surveys Preliminary Interpretive Report 2010-1, 42 p.
Personius, S.F., Crone, A.J., Burns, P.A., Beget, J.E., Seitz, G.G., and Bemis, S.P., 2010, Logs and geologic data from a paleoseismic investigation of the Susitna Glacier fault, central Alaska Range, Alaska: U.S. Geological Survey Scientific Investigations Map 3114, 2 sheets. http://pubs.usgs.gov/sim/3114/.
Carver, G.A., Bemis, S.P., Solie, D.N., and Obermiller, K.E., 2008, Active and potentially active faults in or near the Alaska Highway corridor, Delta Junction to Dot Lake, Alaska: Alaska Division of Geological & Geophysical Surveys Preliminary Interpretive Report 2008-3D, 32 p.
Bemis, S.P., and Wallace, W.K., 2007, Neotectonic framework of the north-central Alaska Range foothills, in Ridgway, K., Trop, J., Glen, J., and Fisher, M. eds., Tectonic Growth of a Collisional Continental Margin: Crustal Evolution of Southern Alaska, Geological Society of America Special Paper 431, p. 549-572.