Frank Ettensohn's travels as a geologist have taken him around the world and back
By: Colleen Glenn
There is a saying among geologists: the best geologist is the one who has seen the most rocks. Frank Ettensohn has seen a lot.
Ettensohn's work concentrates on foreland basins and black oil and gas shales. Although he conducts the majority of his research in the Appalachian basin, Ettensohn keeps his passport handy, ready to journey to different locations to expand his range of knowledge.
From Ecuador to Argentina to Italy to Russia, the University of Kentucky Professor of Geology travels around the world studying rock formations, teaching courses, and presenting his research.
"We go on fieldtrips to see more rocks, to learn more," Ettensohn said. "I know the Kentucky region very well, but, as a geologist, I want to go places where I can see new things."
China, for example, offers "all sorts of new and strange things" for his studies, according to Ettensohn. Every other summer, Ettensohn teaches geology courses at the China University of Geosciences in Beijing. He recently assisted Chinese geologists in dating and characterizing black shales in southern China. Ultimately, this research provides crucial information on locations and depths for oil and gas prospects.
During summers when he is not in China, Ettensohn teaches a Geology field camp course in south central Colorado where UK students learn basic field techniques. From their base camp in Gunnison, they travel to other locations in Colorado as well as to landmarks in neighboring states, including Mesa Verde, Great Sand Dunes National Park, Monument Valley, and Arches National Park.
Traveling to other regions not only presents Ettensohn with fresh learning experiences, but also provides him with opportunities to learn more about the Kentucky area. In addition to black shales and foreland basins, he researches limestones and carbonates.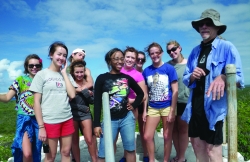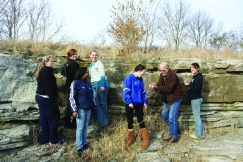 Every spring, Ettensohn takes a group of UK students to the Bahamas to educate them about what limestones here mean, because the "present is the key to the past."
"450 million years ago," Ettensohn explains, "The central Kentucky area was like the Bahamas. We need to go to places like that to understand how limestones and carbonates form. When we understand how they form, we understand where to look for oil and gas among other things."
This March, members of the American Institute of Professional Geologists as well as students from Morehead and Eastern Kentucky University will join Ettensohn and his UK students in the Bahamas as they snorkel and study limestones, both in the ocean as well as on land.
But Ettensohn's interests are much broader than his chosen field of Geology. He is particularly intrigued by Eastern philosophy and religion, believing Westerners have much to learn from Hinduism and Buddhism.
Over the winter break, he traveled to India with students in the UK Honors Program, co-leading them on a broad tour of the northern and southern regions. As part of their study of Eastern religions, Ettensohn and his students stayed at an ashram and visited Buddhist, Hindu, and Muslim holy sites. From India, Ettensohn embarked on a solo trek to his former stomping ground in Nepal (he lived there for six months during a Fulbright fellowship), where he visited friends and set the groundwork for a future Honors trip—and possibly a Geology fieldtrip—to Nepal and Tibet.
While Ettensohn's fieldwork has been exciting, it has also, at times, been extremely dangerous. While in Siberia in 1991, the USSR collapsed, and Ettensohn was lucky to be able to leave the country. Fifteen years later, he found himself caught in the middle of a revolution in Nepal. "There were Maoist rebels everywhere," Ettensohn recalled, "You didn't know whether you were going to be kidnapped or what the situation was going to be."
Despite his Indiana Jones-like adventures, Ettensohn remains modest and dedicated to his family. His son and daughter have accompanied him on trips to China and Nepal, and when not traveling with them, he visits them often. "I've learned as much from them as I've taught them," he says fondly of their relationship.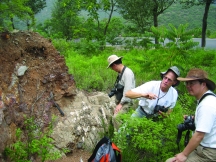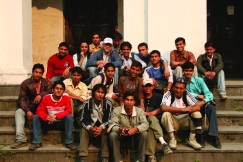 "Travelling," he says, "is just one way of keeping myself engaged in learning."  In his spare time, he is also a beekeeper, volunteers with the Boy Scouts, and is learning to play the banjo.
"Banjo, in particular, has given me some empathy for my students," Ettensohn says. "As I struggle to learn how to play it, I make so many mistakes over and over again. It makes me appreciate now how difficult the learning process can be and why some students, like me, make repeated mistakes."
Planning on settling back in the Department of Earth & Environmental Sciences (Geology) after his directorial position in the Honors Program ends this semester, Ettensohn is developing a new course called "Cosmos, Earth, and Humanity."
"It takes people from the beginning of time all the way up to the present. We deal with chemical evolution, biological evolution, and cultural evolution," Ettensohn explained.  "It's all in us: everything from the beginning of time is encapsulated in each of us."
Before he puts the finishing touches on the course though, he just has one quick stop to make in August: Australia.
Duty calls.

Photos courtesy of Frank Ettensohn
1. With a group of Freshman Discovery geology students on the island of San Salvador in the Bahamas.
2. Ettensohn and Freshman Discovery geology students examine fossils from an ancient beach deposit, about 450-million years old, along I-64 near Frankfort, KY.
3. Ettensohn and Chinese geologists from the China University of Geosciences examine an unconformity (an ancient soil formed in the tropics about 1 billion years ago), near Zishikou, southwest of Beijing.
4. Ettensohn with students from his freshman introductory geology class at Trichandra University in Kathmandu, Nepal.