Jason Cummins' employer gave him a three-year, full-tuition college scholarship, sent him to flight school, paid him to attend one of the most prestigious MBA programs in the country, and asked him to teach economics at West Point. In May, the UK Class of 1993 alum returned to take up the leadership of the UK Army ROTC program; the same program from which he himself graduated 16 years ago.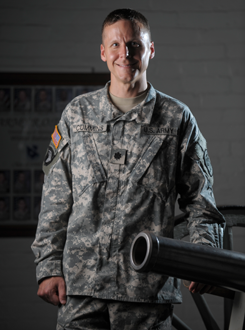 Cummins' office walls in Barker Hall display a scrapbook of his Army career: the tail rotor blade from an Apache helicopter, the flag of the 101st Airborne, his MBA diploma from The Wharton School of the University of Pennsylvania, a cavalry sabre, and unit pictures from Iraq and Afghanistan. In addition, Cummins also brought with him a list of ambitious goals for the UK Army ROTC program that is matched only by his seemingly boundless energy.
A Lexington, Ky. native, Cummins followed his high school girlfriend to UK. "Which turned out be a good decision since now she's my wife," Cummins said with a smile. As a freshman, he signed up for Military Science 101 and loved it, ultimately applying for and receiving a 3-year ROTC scholarship and commissioning as an officer upon graduation.
Cummins feels strongly that his role as head of the ROTC program is not to try to persuade students to make the military a lifelong career. "What I'm trying to encourage is the first assignment and its associated leadership experiences, the opportunity to give something back while serving one's country, and the ability to influence others, said Cummins. "Active duty versus reserves, career military or not, they can work that out for themselves. Clearly my opinions on how long I would be in the military changed drastically from the time I was a 22-year-old student."
Leadership instruction is a drum that Cummins beats loudly, and he brings a myriad of leadership experience to the table. "This program should be known as the best leadership training program at the University of Kentucky," declared Cummins. This ambition permeates all aspects of the Military Science curriculum including Military Science 101, the basic introductory course open to all UK students. "We've made this a great leadership class by incorporating articles from "'The Harvard Business Review'" and other materials written about leadership that come from outside the military window. And ideally, I'd like more students to take the class because they are learning about leadership and not necessarily because they want to become ROTC officers."
For ROTC cadets, this leadership training continues when they are sophomores and juniors participating in Wednesday afternoon "leadership labs," sessions that operate much like a biology or chemistry lab in which cadets apply classroom-learned theories. Then as seniors, cadets adopt a command leadership structure that directly mirrors an Army battalion staff, with one senior selected to lead the entire cadet battalion. "Talk about a leadership challenge – that person now has to motivate and inspire cadets who last year were his or her peers and technically still are your peers," said Cummins, no doubt remembering his own senior year when he himself was the Cadet Battalion Commander.
Cummins' experiences as a teacher, a soldier and a student are helping shape the program into one that puts considerable emphasis on individual mentorship of potential future officers. "We can't view ROTC just as a program. We have to look at each cadet individually," explained Cummins. "Our ability to coach, teach and mentor these young people, and the ensuing relationships we develop with cadets here – based on my experience at West Point – will continue to benefit them as they call on your mentorship for years to come."
Academics also play a huge role in the life of a future officer. "We can't commission an officer that doesn't graduate," Cummins said. "They are a student first and foremost. A lot of the cadets come in here saying 'I want to be the next Patton!' but they can't stand class. Well, you've got to understand those go hand in hand." Between ROTC and course work, Cummins encourages cadets to be normal college students and not make ROTC their only focus. "A smart, well-rounded, balanced student becomes a smart, well-rounded, balanced officer. And that's what we want," said Cummins. "I don't want someone who is only involved with ROTC. I want someone who is involved with things like Greek life and college athletics. Some of the best leadership skills and experiences come from collegiate sports, and the military is the most contact sport there is."
"Ultimately, our job is to commission the future leadership of the U.S. Army," said Cummins. "Given the current role of our military in protecting our national interests, that is an awesome responsibility. Our Army needs and deserves the finest leaders possible, and that's what we're committed to developing." 
By: Rebekah Tilley
Photos by: Shaun Ring