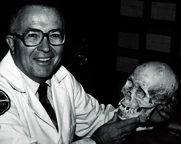 There is one 12 or 13-year-old female, with great dental work, that he can't get out of his mind. This is a case that haunts him.
"I can't ID her," said Bill Bass, one of the world's leading forensic anthropologists and alumnus of UK's College of Arts and Sciences. "There are cold cases, but they are never really that cold. We are constantly talking about them and there are new techniques that are coming out all the time that may break the case."
Originally from Stephens City, Va., Bass came to Kentucky in the early 50s after being drafted and stationed at Fort Knox. When his military career was up, he decided to come to UK and was admitted to the psychology program with a minor in anthropology.
"Half way through the fall semester I realized I didn't want to spend my time talking to people about their problems all day," he said.
It was then he realized he wanted to make anthropology his career. He received his Master of Science in anthropology from UK in 1956.
"Dr. Charlie Snow was head of the anthropology department when I was at UK and it is because of him that I am where I am now," Bass said. "He inspired me in the area of forensics and was a phenomenal teacher."
During his career, Bass has worked to uncover reasons of death in famous cases such as the Lindberg baby and J.P. "The Big Bopper" Richardson, who died in the 1959 plane crash that also killed musicians Buddy Holly and Richie Valens. Recently, there has been discussion of excavating Harry Houdini's body – and Bass is on the forensic team for the case.
"Forensics is a puzzle to solve," Bass said. "It's a challenge to figure out who the skeleton is and what happened to them. It's a puzzle and a challenge that I love."
Bass joined the University of Tennessee as a professor in June of 1971 and soon after created the only place on earth dedicated to studying human decay – the Body Farm. There are currently 180 bodies on the farm, some on the surface, some buried, some in cars and trunks.
"I went to the dean in November of 1971 and said I needed some land to put bodies on," Bass said. "The dean didn't blink an eye and the Body Farm started with a sow barn."  
Now retired from the University of Tennessee, Bass is still active as ever. He travels the country leading classes on forensic anthropology and continues to give talks. In his free time he likes to camp and travel to one of his favorite locations – Tucson, Ariz.
"It has definitely been a fun ride," he said.